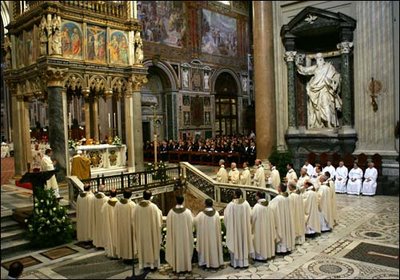 This image was originally posted at The Globe and Mail Online
The Pope made the Globe and Mail and the Guardian today. He is shown above from the Globe's,
This Week in Pictures
, saying Holy Thursday mass at the Vatican, while the Guardian carried
portions
of his first ever Easter sermon the day after; where he was denouncing Judas as a greedy liar.
On Easter Sunday, he is planning to denounce
Edmund Pensevie
from, "...that Narnia movie," as playing basically the same role and therefore being a negative influence on today's impressionable youths.
Pope Benedict was originally planning to call a fatwa against both Pensevie and child actor,
Skandar Amin Casper Keynes
but was cautioned against this by his advisors who informed the enraged pontiff that it wasn't an option.
The Pope then tried to excommunicate both Pensevie and Keynes only to be told that Keynes is an atheist, while Pensevie is a fictional character. Keynes, 14, on hearing of the Pope's rage and having just recently watched the latest Start Wars trilogy, is rumoured to be hiding in the Welsh Mountains.
This image was originally posted at The Goodness Archives
I wonder who the Pope is really mad at. Will the Sunday sermon feature the money-changers in the temple rant, with the old,
this-is-my-father's-house
tirade? Which Christians do you think he might be referring to? Hmmmm?