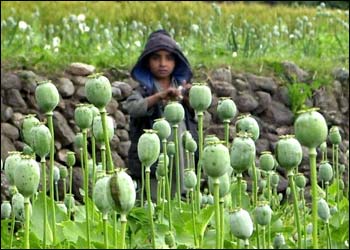 Junior Gardener or Terrorist?
This image was originally posted at the Globe and Mail
This young boy is working in a poppy field in the Tirah Valley, Pakistan, not far from Peshawar, Afghanistan. How old do you think he is?
I wonder if he will still be standing there when the soldiers begin
forced eradication
of the opium poppies in that part of the world? Remember how well these techniques have worked in Columbia, and against the hill tribes in Thailand and Burma.
If you read about it in the US government's
International Information Programs
it all sounds quite reasonable, necessary, and justified, but it requires taking the article at face value, and it's hard to read when you're laughing and crying at the same time.
If the west was really worried about this problem, why did they blast to kingdom come
the only government that's ever been able to control the poppy production problem
? Oh yeah, it had to do with
oil
.
I wonder if the soldiers will see a little boy who should be in school, or a key member of an international narco-terrorist operation that supports the mythical terrorist king, Osame bin Laden.
What do they usually see?